I have just come across a Christmas show that is being held here. Some lovely Christmas / winter things have been entered already. Submission opened on 23rd Nov and closes 30th Nov.
I am going to try my best this week to finish my Christmas Quilt so that I can enter it! Wish me luck, I have to do most of the quilting and then bind it! But I like a challenge! If that fails I think my table runner will get entered instead. Anyway, watch this space!
It looks to be a lot of fun. Go take a look and enter something :)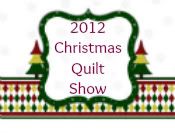 On another note, our youngest daughter turned 4 today! It must be lovely to be four. She had her favourite breakfast - pancakes. Then a trip up our local mountain to play in the snow, see Santa's reindeer and sit on Santa's knee for a photo. And cake! A fun day all round.